Modular Conveyor Belt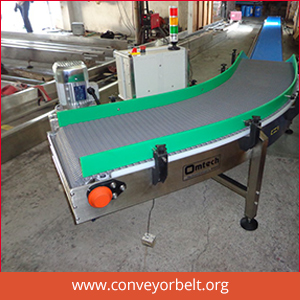 Modular conveyor belt is brilliantly designed belting conveyor. It is built with keeping in the mind diversification of operational factors of modular conveyor belt. It offers maximum flexibility to suits the types and kinds of products to be convey.
We are considered as chief manufacturer and supplier of modular conveyor belts. Latest version of techniques and fabrication tools has strengthened our expertise and proficiency of precise fabrication.
Modular conveyor belt contains varied number of T-slots to facilitate the mounting of important accessories. For varied applications, hoppers are needed to be attached. These slots offer easy modification for such attachment. A chute also can be easily attached to main belting system.
Furthermore it is very convenient to dismantle, reassemble and rearrange the accessories as per need of operation. This flexibility of modular conveyor belt made it easy to repair and easy to maintain.
Interchangeable units
Supports we conveying
Consistent performance
Easy to modify as per need
Popular for frozen food conveying
Modified as per product size and shape
Locking drive
Highly compatible
Wear and tear resistant