Hygenic  Conveyor Belt Manufacturer
We are tagged as leading manufacturer and supplier of best quality  Hygenic Conveyors belting. We fabricate conveyor systems for all industrial sectors including food processing and packaging applications. We have developed great range of hygienic conveyor belting specially used for many food processing applications in bakery, dairy, meat, snacks, ready meals, sea food, poultry, vegetables, fruits, potato, wafers and countless food products. Either it is a nylon  Hygenic Conveyor Belt or PVC conveyor belt or with other configuration hygienic operational condition is prior to focus the fabrication. Our oil resistant belts are also highly preferred for hygienic conveyor belting.
Our belts are highly demanding for washing, processing and inspection for these products. Hygenic  Conveyor Belt also perform well for the packaging and to transport different materials and products. The raw material for construction is selected by considering hygiene need of operations.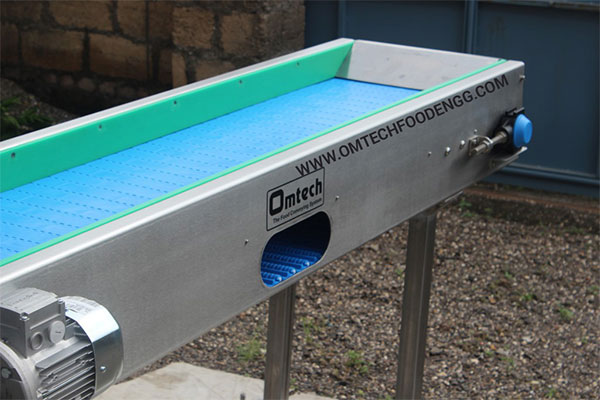 To meet such diversifying need of varied procedures of food processing industry, our range is built to make compatible with other systems to offer perfect functionality. Hygenic Conveyor Belt contains rigid construction. To achieve the superior level of hygiene, all fabrication criteria and specifications are optimized with a view of sanitization and contamination free operating.
Hygenic Conveyor Belt is available with varied configurations to ensemble different transporting requirements. It contains stainless steel slider bed to decrease wear. The automatic belt tensioning technique is used to fabricate the belts. It is also built by using modular units that significantly make very flexible for maintenance and reassembling for needed procedure.
Features of Hygenic Conveyor Belt:
Suitable for all purpose
Non breakable
stainless steel
Sturdy design
with wheel and roller ,easily movable
Key: Conveyor Belt | Conveyor Belt Manufacturer| Conveyor Belt Supplier| Conveyor Belt Exporter |Conveyor Belt Rajkot | Conveyor Belt Gujarat | Conveyor Belt India| Food Conveyor Belt India | Activated Roller Belt Manufacturer | Modular Conveyor Belt Exporter