Elevator Conveyor Belt Manufacturer 
OMTECH is an ISO certified company offers best quality Elevator Conveyor Belts for varied industrial applications. Our conveyor belts are available for high resistance for temperature, oil and chemical.It is provided with high abrasion resistance and offer longer service life. Every conveying system at OMTECH is built with special design criteria with regards to its application area. An Elevator Conveying Belt is designed with using latest software.Safety is the first decisive factor to built elevator conveying belts. It is available with high tensile strength. Varied width options are available.It is built with high grade raw material, rubber and other carcass materials. It is used to convey wide ranging products and materials. It is built to provide continuous and unobstructed operations.
Belting available with holes punched only or with elevator buckets installed at time of consignment. A bucket elevator can lift up a multiplicity of bulk materials from light to weighty and from fine to hefty lumps. Specifically punched conveyor belting allows for the easy setting up of elevator buckets with customary spacing. Wide variety of in-stock belting to meet unique specification , includes heavy duty belting, PVC belting and high temperature belting.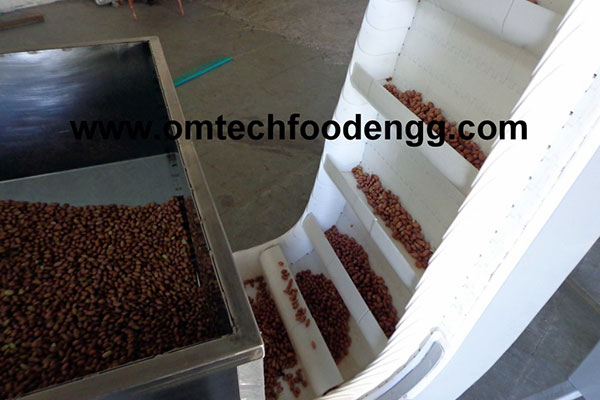 These products are Elevator Conveyor Belt are used for vertical application this are manufactured using high grade quality material as Extensive range of Elevator Belts to set industry standards using advanced technology also are manufactured by skilled professional and also checked on various parameters for their quality. It is with smooth finish, Flawless finish, sturdy design.
Our Offered Range of Elevator Conveyor Belt is available in different grades to meet various necessities of the clients .Elevator Conveyor Belt is best suited for vertical transportation of  goods, material , food ingredients, also is reliable best performance. This belt is easy for installation joining, maintenance, rubber lining, Pulley Lagging .It is well constructed and designed for application   in all areas of the belted type elevators with long service life is the best solution from technical and cost-efficiency from spot point of view. This belt is widely used in industry for various purpose such as Food Product, Rock Product, Docks, Ship loading, Unloading, Chemical Processing, Pulp ,Paper ,Mineral processing plant, in Malls, Recycling compost etc this belt is used.
BENEFITS of Elevator Conveyor Belt
Smaller footprint
Perpendicular transport of product
Great solution from a industrial and cost-efficiency point of view
Features of Elevator Conveyor Belt:
Safe handling of material
High grade construction and carcass material
energy efficient
low maintenance
Easy to operate, easy to maintain
cost-effective operation
Less elongation
High potency
Light weight
Wear-resistance
Long working life