Food Conveyor Belt Manufacturer
Conveying systems has wide ranging scopes in many industrial operations. Now-a-days food processing industries is at peak for their functional varieties. There are countless applications of Food Conveyor Belt in food processing.It is also used for grading, washing, sorting and packaging of the food products. It is exclusively used for post agricultural products. The application of conveying system for food processing seeks higher level of hygiene for the quality of end product. Having experience and expertise in fabrication of conveying system, we have design Food Conveyor Belt with most modern features and good flexibility.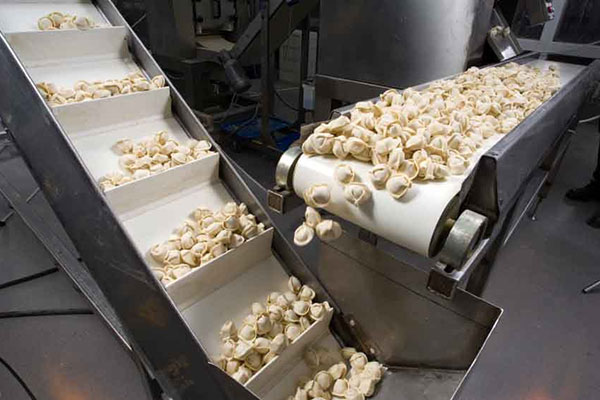 It is built with best material and made suitable to all material geometry. We have employed latest version automation system for the fabrication of the conveying system. It is also highly compatible for process monitoring and inspection. It is also available with custom configuration for the particular need.Our Food Conveyor Belt are good in Quality for application solution such as belt scraper, special belt with aqua pruf belt as welded stainless steel, plastic chain,food belt processing conveyor , bakery habasit  provides an extensive food conveyor belt that processing belt range used high quality coating material favourable for all modern food processs this metal conveyor belt are easy to clean, resistant to high heat,  making them resistant to heat, handling easily.
Our Offered Range of Food Conveyor Belt provides solution for belting challenges for baking, food processing, transfering food ingredients such as dough handling, oily and sticky, grease resistance non-stick cut gouge resistant belts Material used in Food Conveyor Belt is of high grade, strength for handling food application available in various colors such as Whiite, Green, Blue, Black,Tan Material used in Food Conveyor Belt is Teflon, Silicone, Nitrile Oil Proof, PVC,Rubber Modified Vinly for Low/High Temperature is applicable in Pharmaceuticals, Food industry,Polutary ,Hotels, Resturant, etc.
Features of Food Conveyor Belt:
well-located side guards
temperature resistance
improved product handling facility
corrosion resistance
clearly profitable
save energy and resources
better hygiene
decreased cleaning time
Applications of  Food Conveyor Belt:
Fruits
Vegetables
Meats
Poultry
Fish
Beverages
Grains
Nuts
Candles
Breads
Pastries
Cereals
Pharmaceuticals
Key :  Conveyor Belt |Conveyor Belt Manufacturer| Conveyor Belt Supplier| Conveyor Belt Exporter |Conveyor Belt Rajkot | Conveyor Belt Gujarat | Conveyor Belt India| Food Conveyor Belt India | Activated Roller Belt Manufacturer | Inclined Inspection Pvc Belt